Information For Parents
Quick guide for absence from school
Covid-19 Catch-up Funding
Catch-up Funding 2020-2021 Website
THANK YOU TO NHS STAFF AND KEY WORKERS
Our children came together to create this beautiful rainbow poster to celebrate our NHS staff and key workers!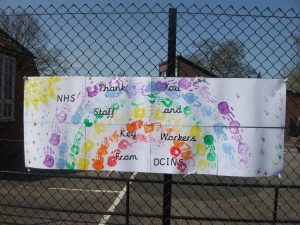 Department for Education coronavirus helpline
The Department for Education coronavirus helpline is available to answer questions about COVID-19 relating to education and children's social care. Staff, parents and young people can contact this helpline as follows:
Phone: 0800 046 8687
Opening hours: 8am to 6pm (Monday to Friday), 10am to 4pm (Saturday to Sunday)
Remote Learning
Please see our remote learning information  on our website under Children's Zone, Home Learning.
Remote Learning September 2020
Speech and Language Information
The following link provides information and resources to support your child's communication skills:
If you have any concerns regarding your child's speech, language and communication skills you can contact the ECCH parent advice line on 01502 719830 (Monday – Friday 9am – 12 noon)
Free School Meals (FSM)
All families eligible for FSM are entitled to receive lunches during the school closure period. Any families eligible for this can claim for food vouchers for days their child is not attending school. A letter has been sent to all eligible families. If you think you may be eligible for this, please contact the office on 01362 692727 or office@dereham.norfolk.sch.uk for more information.
Safeguarding
We are committed to ensuring all families are safe during this difficult time. Where possible, we will continue to communicate with all our families to check that everyone is happy and well.
We understand that concerns may still arise during this challenging time as families are under huge amounts of pressure. If you see something or hear something that concerns you, please contact Norfolk Safeguarding Children Partnership on 0344 800 8020 to help keep all children safe. In an emergency, call 999.
See Something, Hear Something, Say Something
Norfolk Constabulary have also released a 'Safer Schools' Newsletter for all children:
The Norfolk Safeguarding Children Partnership (NSCP) have launched a new campaign called 'We're Still Here'. This NSCP wants all our families to know that this is a difficult time and if you are struggling, please come forward and seek help.  They will be sending out many postcards with the Just One Norfolk support and advice line. Please call this advice line if you need help: 0300 300 0123
Further information can be found at http://www.justonenorfolk.nhs.uk/
Mental Health and Well-Being
We consider mental health and well-being to be of great importance for our children, families and staff. This is a very challenging time and there are lots of aspects to consider: feeling low because of the news, worrying about health, and coping with isolation and not seeing our family and friends. There are helplines available below that we hope will be of support:
Young Minds Charity: https://youngminds.org.uk/find-help/looking-after-yourself/coronavirus-and-mental-health/
Mental Health Foundation: http://https://www.mentalhealth.org.uk/a-to-z/c/children-and-young-people
Mind: http://https://www.mind.org.uk/information-support/for-children-and-young-people/
NSPCC: http://https://www.nspcc.org.uk/keeping-children-safe/support-for-parents/mental-health-parenting/