DBE Footprints Article September 2021
We were asked by the Diocese to write an article celebrating RE in our school. Please click on the link below to find our article, written by our RE lead Miss John and our headteacher Mrs Futers…on page 2!
Our School: Our World Day 2021
In the Autumn Term of 2021, we had a really fun whole school RE day!
Our RE lead, Miss John, organised a blue and green dress up day, where half of us dressed in blue clothing and the other half dressed in green clothing to represent the land and water of the earth.
We also brought in donations for The Norfolk Wildlife Trust and raised a brilliant £90!
We took part in a video competition run by The Diocese of Norwich Education Team, exploring and explaining the importance of being good stewards of God's creation.
We are excited to announce that we WON RUNNER'S UP and RECEIVED a £25 GARDENING VOUCHER for a future eco project. Take a look at The Diocese of Norwich Education Team website to watch our brilliant video. Unfortunately the video is too large for our website, so here are some photographs from our wonderful day instead!
NATRE's National Spirited Arts Competition 2021
This year, we took part in a national art and poetry competition, run by NATRE (National Association of Teachers of Religious Education). We chose to focus our entries on two out of the five themes given. These themes were "God's Good Earth" and "We have far more in common than that which divides us".
Pearl, Ruby and Sapphire: whole class artwork:
Both Reception classes and Sapphire class (Year 1) chose to focus their competition entry on the theme "We have far more in common that that which divides us". Take a look at their fantastic pieces of art: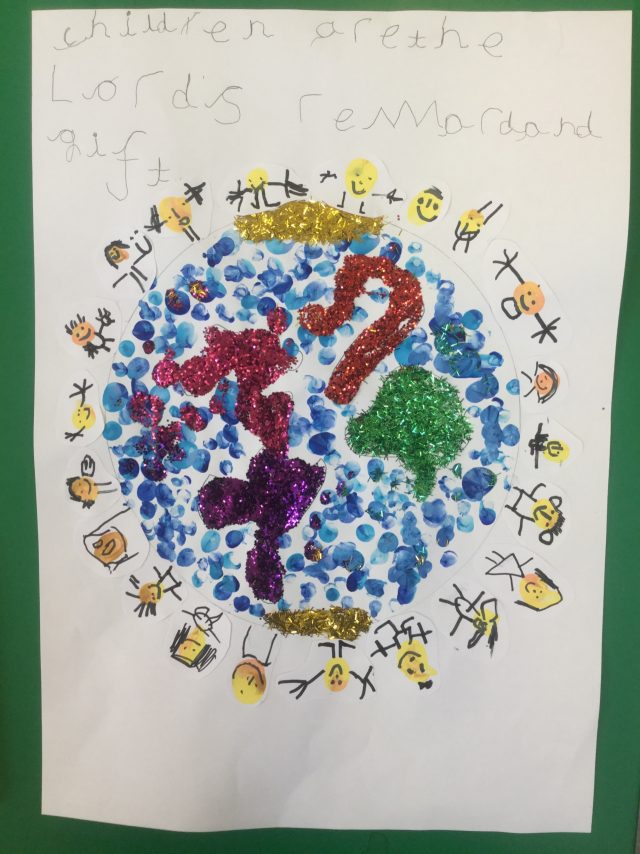 Diamond whole class artwork:
Diamond Class also created a whole class entry, however they chose the theme "God's Good Earth" and constructed a brilliant sculpture of God's hands holding our wonderful world:
Year 2 individual artwork:
In Year 2, all children created an individual pieces of artwork, also on the theme "God's Good Earth" and linked their previous learning of the dangers of climate change. All children chose one religious or famous quote that they felt was most appropriate for their piece of art. Every child wrote a poem on the back of their artwork. Emerald Class explored the threats of climate change in our oceans, whereas Topaz class explored these threats on land.
In line with the competition rules, we will be sending the top 10 entries off in the post to NATRE. Pearl, Ruby, Diamond and Sapphire's entries will all be sent (as they were completed as a class) and 6 individual pieces of artwork from Emerald and Topaz have been carefully selected by our school council and governors to be sent off too.
Whole School Display
Take a look at our whole school RE display in our hall.
We update this display at the end of every term with learning examples from all year groups. On the display there are two photographs, two child quotes and two pieces of work from each class.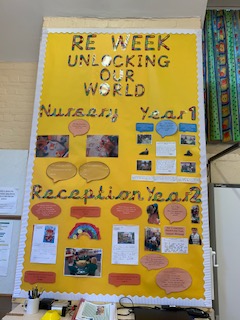 Classroom Displays
All of our classrooms have a designated RE display, which is updated each half term, during every RE week. These displays include photographs of learning in action, examples of children's work and quotes taken throughout RE weeks.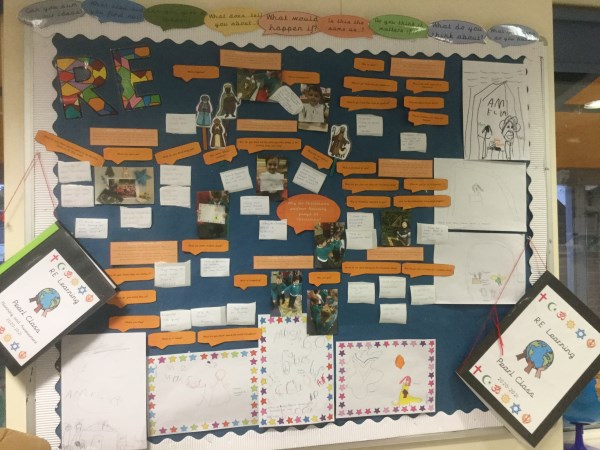 Spring Term Remote Learning
During the January – March national lock down, we were so impressed and proud of all of our children's RE remote learning. Please take a look at the pictures below to see some examples of RE at home during this time.