Science at DCINS – Please click the link below to view our Science subject information.
Science subject on a page 2020 – 2021
Progression within Science – Please click the link below to view our school progression grid for Science. This grid outlines how children's learning develops throughout each year group. It also demonstrates what children will achieve as they progress through the school.
Science vocabulary at DCINS – Please click the link below to view our progression within Scientific vocabulary across our school.
Science vocabulary progression grid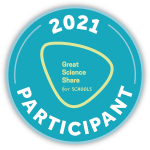 At DCINS, the children have participated in The Great Science Share focusing on the theme for 2021 'Climate emergency'. Each year group spent a whole week learning about the ways that humans are contributing towards climate change. In early years, children learnt all about the melting on polar ice caps through a story about a polar bear in danger. Year 1 children focused on plastic pollution. The children in year 2 learnt about ghost nets and the problems these cause for the creatures in the ocean and their habitat. The children planned and conducted experiments based around their learning. They created posters to share information and also large scales pieces of art work. The children of DCINS have become very knowledgeable around climate change and are ambitious and eager to make a change!