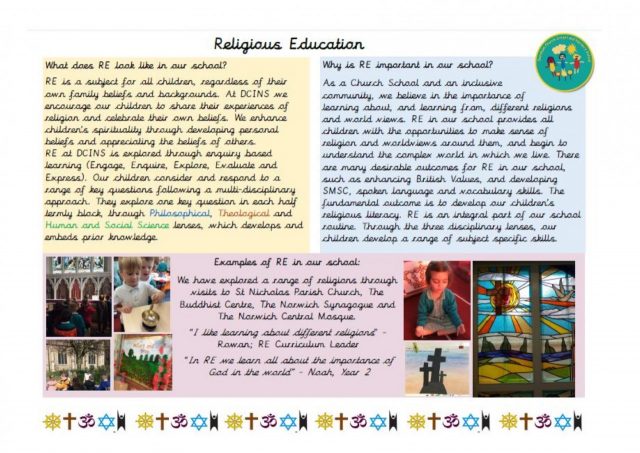 Our Curriculum Map
A high quality religious education (RE) curriculum is essential to meet the statutory requirement for all maintained schools to teach a broad and balanced curriculum. At the heart of RE in church schools is the teaching of Christianity, rooted in the person and work of Jesus Christ. There is a clear expectation that as inclusive communities, church schools encourage learning about other religions and world views* fostering respect for them. Although there is not a National Curriculum for RE, all maintained schools have a statutory duty to teach it.
As a school, we follow The Norfolk Agreed Syllabus. Please click on the link below to view our whole school curriculum map for 2020-2021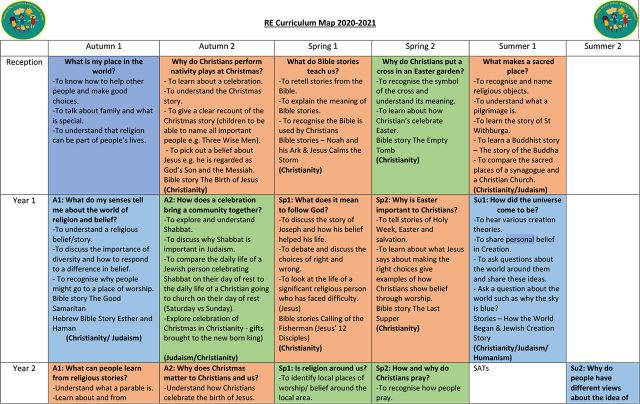 Year Group Planning Overviews
Reception RE Medium Term Plans 2020 – 2021
Year 1 RE Medium Term Plans 2020 – 2021
Year 2 RE Medium Term Plans 2020-2021
SIAMs July 2019
"Pupils enjoy RE. The curriculum is exceptionally broad and rich.
RE is rigorously monitored by leaders, including governors and pupils. This ensures that teaching is never less than good.
Pupils make at least expected progress, including those with SEND because the curriculum enables them to access learning through music, art and drama. Higher achieving pupils are provided with additional challenges."
Please click on the link to read the Statement of Entitlement
Pupil Voice
We believe pupil voice provides our children with the opportunities to become involved in how and what they learn. At the end of every RE week, a pupil voice survey is sent out to all class teachers to answer with their children as a whole class discussion. In Autumn Term, pupil voice surveys are answered by children in KS1. From Spring Term, pupil voice surveys are answered by all our children (EYFS and KS1). Please click on the links below to read the responses from our 2020 Autumn Term surveys. Unfortunately, due to the second school national lockdown, our Spring Term 1 survey was not answered. However the questions are included in the third link below:
RE Learning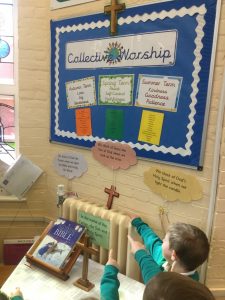 Celebrating our RE learning
Take a look at our whole school RE display in our hall. We update this display at the end of every term with learning examples from all year groups. On the display there are two photographs, two child quotes and two pieces of work from each class.